Westlab's Delivery and Return Policies
DELIVERY (ONLINE ORDERS)
​Westlab is excited to offer our valued customers free delivery on online orders over $100 excluding GST anywhere in Australia. If your order is above $100 excluding GST and complies with the conditions below, we will ship your order to you quickly, efficiently, and absolutely free! Orders under $100 (ex. GST) incur a flat rate delivery charge of $29.50 excl GST. Orders placed with Westlab can expect to receive in-stock items within 1-5 business days.*
*Surcharges will apply to products that fall into either of the below categories. These products that are clearly marked on our website:
Bulky Goods Surcharge - products that have a weight of greater than 15kg or are considered 'bulky' in their packaging. Freight charge will be calculated at checkout.
Dangerous Goods Surcharge - if your order contains any dangerous goods (DG), a standard $10 surcharge will apply to your order unless otherwise stated.
30 DAY RETURNS
Westlab offers returns for 30 days from date of invoice. Before you can return any items from your order, you must first request a Return Stock Authority (RSA) by contacting Westlab's customer support team by phone (1800 358 101) or by email (sales@westlab.com.au). The RSA will outline what products are being returned and give you instructions on how to return the items back to Westlab.
After we receive your returned items, Westlab will inspect the items before offering a replacement or a credit for the returned items. Incorrectly ordered items being returned will incur a 20% restocking fee. Any restocking fees will be clearly outlined on your RSA form. Items must be returned within 30 days of the RSA being generated.
Note: Items specially ordered by Westlab for customers are not covered by this 30-Day Return Policy.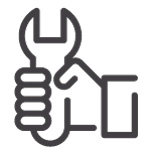 PRODUCT REPAIR SERVICE
As part of our Westlab warranty, we offer product repair services to all our customers across Australia. If you require a product to be repaired, please complete our Product Repair Request Form.
After we receive your Product Repair Request, a Westlab representative will contact you with further information and advance your request.
Complete our Product Repair Request Form Here!